Chi e' Francesco Veròla?
Francesco Verola, essendosi diplomato al Magistero d'Arte di Firenze, ha fatto parte della Scuderia degli Artisti della Galleria Michelangelo di Firenze. Hanno scritto di lui vari critici e giornalisti e risulta pubblicato sul vol. 8° e 10° di "Arte Italiana Contemporanea" edito dalla Casa Editrice "La Ginestra" di Firenze.

Attualmente crea e dipinge le sue opere nel suo studio personale sito nel borgo medioevale di Farfa in Sabina, provincia di Rieti, circa 50 km da Roma. Ha al suo attivo molteplici mostre e rassegne d'arte. Le sue opere si trovano presso collezioni private, gallerie ed enti pubblici e privati in Italia e all'estero.

L'artista e' disponibile ad impartire lezioni private a singole persone con un serio interesse per l'arte e con un minimo di conoscenza artistica.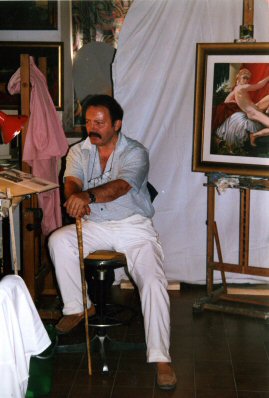 Who is Francesco Veròla?
Francesco Verola is a graduate of the "Magistero d'Arte" in Florence and was part of the famed "Scuderia" (Artists'Association) of the Michelangelo Gallery of Florence. Many critics and journalists have written critiques of his work and an article has been published regarding his work in Volumes No. 8 and 10 of "Arte Italiana Contemporanea", edited by "La Ginestra" editors of Florence.

He currently creates and exhibits his works of art in his private studio located in the medieval town of Farfa in the Sabine hills, province of Rieti, approximately 50 kilometers from Rome. He has participated in many exhibitions over the years and his works can be found on display in private collections, galleries and public and private organizations in both Italy and abroad.

The artist is available for private lessons on a personal basis to persons with a basic knowledge of art and a serious interest in learning.